Message Board
Binfire's mission is to have comprehensive team communication as the integral part of the project management software. This way everything happening in a project including communication is found in one place. One of the best communication tools for one to one, private or group conversation is the message board. Message board plus instant chat, internal messaging and whiteboard create a complete communication platform within the application.
We just redesigned the message board and believe it is far superior to other communication tools in the market. The reason we are saying this is quite simple. Binfire's message board has all the features you find in applications like Slack but it is integrated into the project application to create a powerful work management application. This is an amazing tool with real time notification, ability to create private rooms, commenting plus attaching files to messages and comments. Each project has its own message board. This enables to place all conversations in a project in one place. The application comes with one default board called Project Board which has all project members included. You can create new boards or rooms as they are called targeted for specific topics. There is no limit on how many boards you can create.
This page like other pages in the application is divided into two sections. The left section shows all your boards or rooms. It includes controls for managing boards like creating or deleting one. The right section shows all messages and comments from a project you have selected in the left column. When you create a room, you need to add participants. Only project members or guest can participate in a room. In the following I have listed the benefits of Binfire's new message board:
All team communication in one place
Ability to create room for all project members, a subset or one to one
Integrated with Google Drive and Dropbox (more coming soon)
All content including comments is searchable using elastic search
Ability to comment on messages
Ability to attach files from Binfire, Google drive or Dropbox to messages and comments
The authors of messages and comments are easily recognizable via author's avatar
Available anywhere on any device
The following is a list of things you can do in the message board and in each room:
Search the content using elastic search
Create new boards
Add Members: Add members from your project to the board
Remove Members: Remove members which no longer needed in the conversation
Rename Board: You can rename any board
Archive board: When a topic has come to conclusion, you can archive the board. You can always restore it later if it is needed
Delete Board: Delete a board permanently. You can't recover a board if it is deleted.
Message board is a great tool for communication and team collaboration. With all its capabilities, you will find this tool a great productivity enhancer.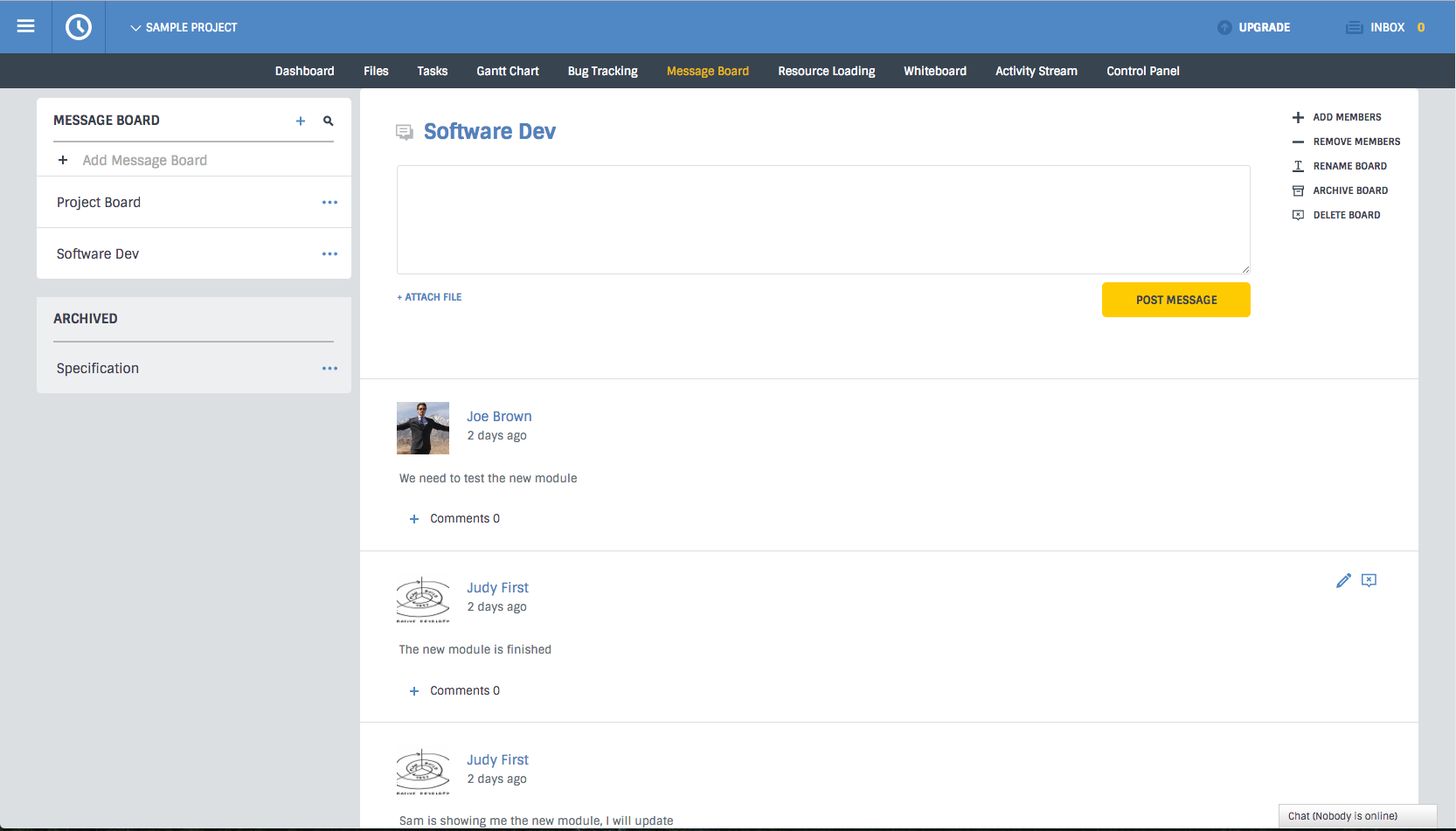 Prev:
Next: Activity Stream