If you are using Wunderlist, it must be disheartening that the big bad wolf named Microsoft is closing the Wunderlist down.
Over the years Wunderlist which was funded in 2010 had a strong following and was considered a good to-do list.
But like everything Microsoft buys,  it was neglected and fell behind the competition.
So instead of investing in the platform, Microsoft decided to close the Wunderlist and promote its own internally developed to-do list.
On May 6th, 2020 Wunderlist will close for good. RIP Wunderlist!
Don't despair, Binfire is a great alternative to Wunderlist. It has better features, is easier to use, and has much better customer support than Microsoft.   
Why move from Wunderlist to Binfire?
Binfire is a complete work management application and not just a to-do list.
It is designed as a collaborative project management app supporting Agile, waterfall, and Hybrid methods.
With Binfire you decide how to view the data, tasks, and conversations in your projects. This customizable look and feel is a huge productivity advantage.
On top of that Binfire gives you a complete list of functionality including subtasks and dependencies which your current app does not.  
Most project management apps have a start date and due date, but few have due time.
In contracting and outsourcing projects, due time is important. The project is not just due on February 18th, but it is due at 8 PM on February 18th.   
Without this feature, your team does not know that by 8 PM EST they have to ship or deliver the product, not at 12:00 AM PST.
If your team uses Agile, Binfire is the only project management vendor that gives you unlimited Portfolio and project Kanban boards.
What is the Portfolio Kanban board?  It is a board that has the tasks from all your projects on it.
The portfolio Kanban board gives you a holistic and complete view of all your projects.
On top of that, the swimlane feature makes it easier to segment and visualize your tasks.
Binfire's swimlanes support projects, assignees, and status lanes for optimal grouping of tasks as shown below.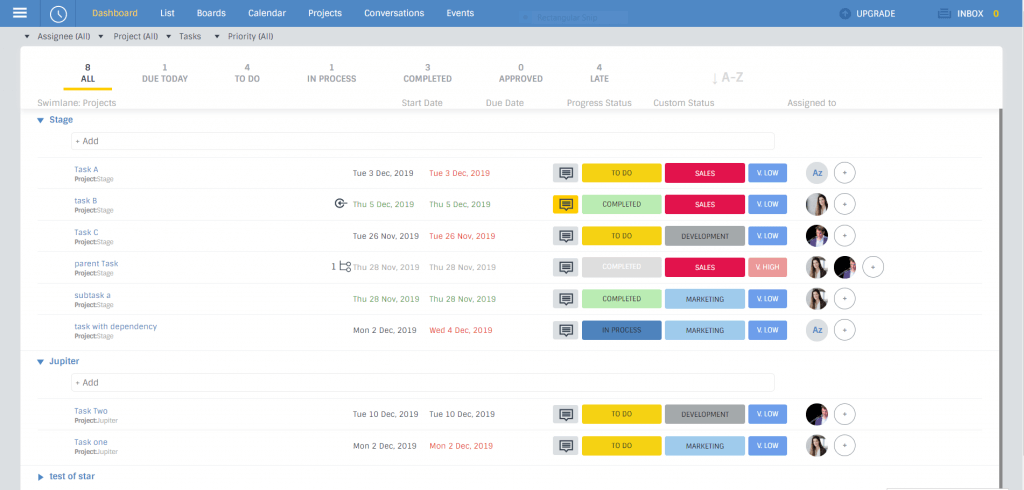 Figure #1 Swimlane Projects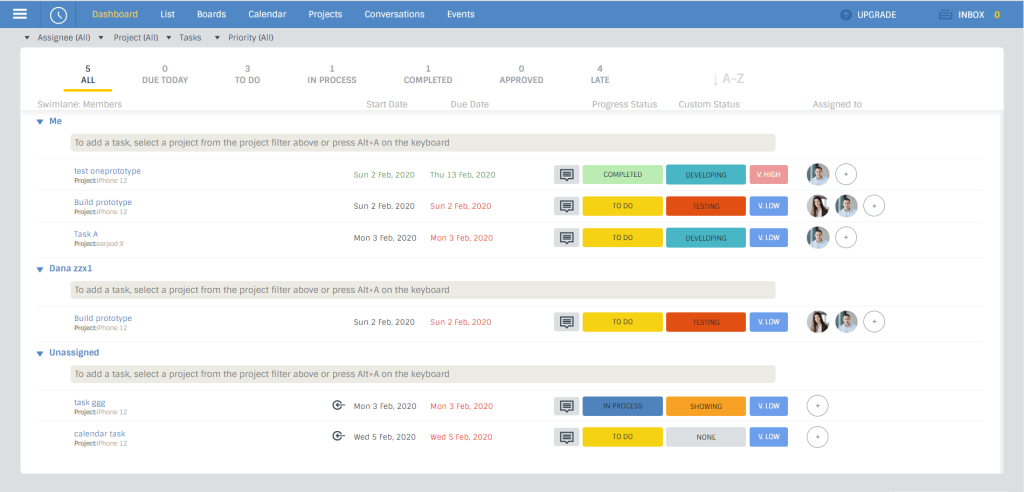 figure #2 Swimlane Team Members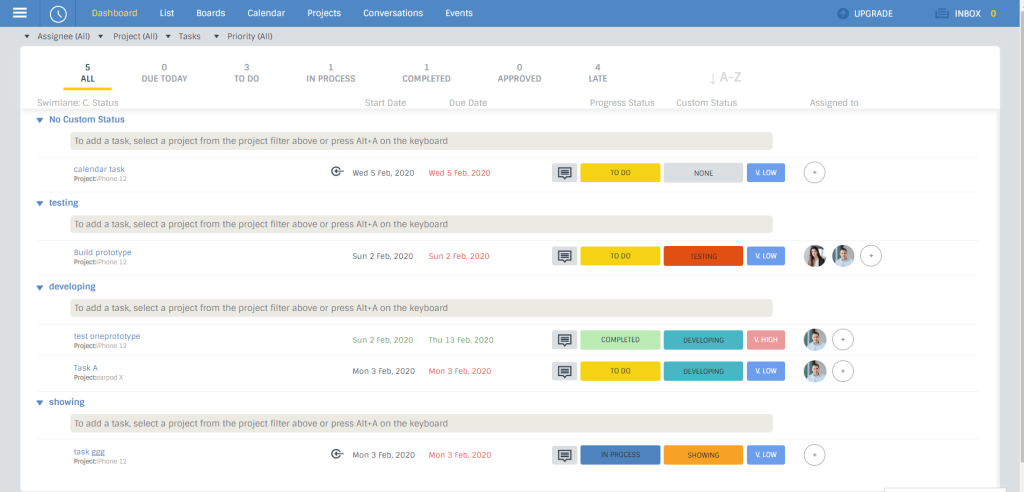 Figure #3 Swimlane Status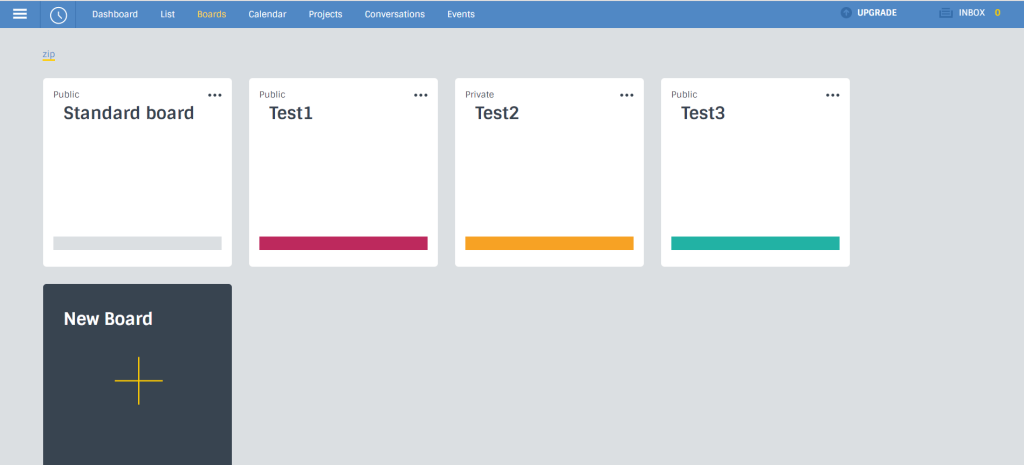 Figure #4 Create unlimited Portfolio boards
On top of that Binfire adds also a Portfolio list view, Calendar, and Dashboard.
In the projects section of the app, in addition to all the above features, the app provides interactive Gantt, resource loading, Project stats, and interactive whiteboard.
Another major feature of Binfire is its tight integration with Google Drive, Google Calendar, iCalendar, and DropBox.
Other features you will find useful in Binfire are the collaborative features sprinkled all over the application.
The application has its own conversation page, which allows you to create multiple channels for collaboration with your team.
Unlike Slack, these channels are secure and are tightly coupled with your projects.
Other project management apps integrate with Slack but lose control of data and notifications.
Binfire allows you to mute a channel, so while you are working on an important task, the communication that is not critical to you right now is blocked and will not interrupt your work.
This is a huge problem with Slack and reduces productivity in teams greatly. Slack has become like the email which was intended to replace. 
It also lets your teammates know that you are busy now and that channel is muted by you.
In case of an emergency, they can contact you directly. 
You can star the most important project so the tasks from that project are displayed first on the dashboard and Kanban board.
You can also add comments to tasks, files, and conversations. 
How Binfire can help you in the transition?
If you are looking for the best task management alternative, check out Binfire.
To make the transition less painful, we will provide you full support in importing your tasks to Binfire.
In addition one of our application engineers will give you an online crash course on how to use Binfire effectively. In no time you will be an expert in using Binfire.
We also will give you a 50% discount on our low prices for the first year so the transition is not only less painful but more joyful!
All you need to do is to sign up for a free trial plan in Binfire. Send us an email to support@binfire.com with the title "I am leaving Microsoft and joining Binfire".
We will contact you with instructions on how to get your 50% discount.  
FAQ
Is Wunderlist closing down?
Yes, Microsoft is closing down the Wunderlist of May 6th, 2020.
Can I import my wunderlist tasks to Binfire?
Yes, Binfire helps you to move your tasks from Wunderlist to Binfire.
Are there alternatives to Wunderlist?
Yes, there are plenty of alternatives to Wunderlist. Binfire is a great choice and makes the transition easier.