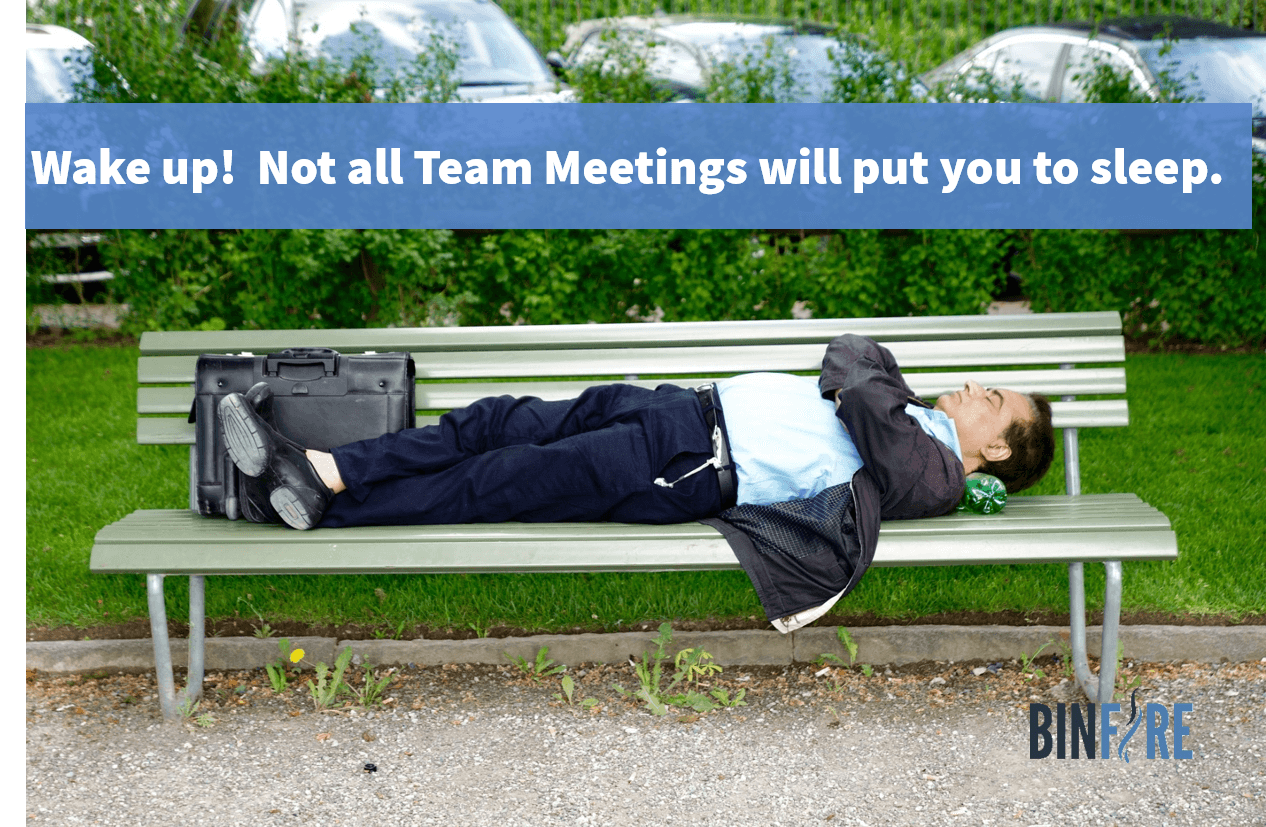 The argument goes that if you are using online project management software effectively, the number of team meetings can been reduced significantly or even eliminated.  Unless the team is very small, most updates are not relevant to everyone in the room and therefore meetings are not a productive use of time.  Online Project Management software that automatically update the Project Manager and the rest of the team when an individual team member completes a task eliminate the need to meet in person.   
While there is some truth to the statement above, sometimes when we try too hard to be "productive" we end up losing sight of the big picture.  It is tempting to do away with meetings, especially when much of the team is working via remote and grudgingly participate on conference calls.  
Our perspective is that by reducing the number of mandatory and perhaps time wasting status meetings, Project Managers get an opportunity for more strategic two-way face-to-face dialog.  Soliciting the feedback of a team in a forum that is not tied to specific tasks creates a mechanism to identify risk areas or opportunities that may not even be on the radar of the Project Manager or executive leadership.  
Although we've built a solution with virtual collaboration functionalities, even the best software is only complimentary to face-to-face interaction.   Here is a list of meetings that are essential for any Project Team:
Project Kick-Off:   Until the day that machines replace humans, the Project Kick-Off Meeting is how we hit the ground running.   During this meeting, the team meets (perhaps for the first time) and there is an opportunity to set common goals and objectives.  It is important that individuals on the team understand the overall strategy, project scope and how their specific workstream impacts the project as a whole.
Collaboration Meetings:  At Binfire we have developed a robust virtual whiteboard and discussion board, but face-to-face collaboration meetings for brainstorming and information sharing have not lost their relevancy.  For instance, when after the completion of a particular milestone and the transitioning to a new team for the next phase of work, it is important to share and discuss ideas in an open forum.
Status Meetings:  Just because you have an online project management software that tracks the status of each project in real time does not mean that there is no value in status meetings.   In fact, Status Meetings can become more valuable if the format is changed to allow questions to be asked to the Project Manager that are strategic in nature or that impact parts of the project that the individual team member has less exposure to.
Stakeholder Meetings:  No matter how good your online project management software dashboard, Stakeholder Meetings cannot be replaced as a way to update management and other stakeholders about the big picture issues that are not captured in a tool.   Stakeholder meetings provide an opportunity for the stakeholder to update or reiterate their requirements to the Project Team and for the Team to ask questions and gain clarification on strategic issues.
Team-Building Events:  We sometimes forget the human nature of Project Management which is why team building events are so important.  It gives people the opportunity to socialize with their team members in a non-work environment and to learn about each other by sharing common experiences and challenges.   Often when there are budget cuts, team building events are the first to be cut but we caution Project Managers not to underestimate the value of these activities, especially for long and complex projects that require significant team collaboration.
 Postmortem:   Postmortems are important both to individuals as well as to the organization itself.   When conducted well, the postmortem gives the individual the opportunity to learn from their mistakes and to get recognition for their contributions.   For the Project Manager and the company itself, this meeting can be used to record information that can be used to improve the process for future projects.
In summary, let's not forget that the key to Project Management is about harnessing the strengths and talents of your people.   Sure, tools are an important way to do this, but no software yet invented will replace the value from human interaction.
Does this topic interest you?  Please feel free to share your comments below.
Also if you like this read about How Microsoft Project Has Fallen Behind Online Project Management Software