Last week Microsoft announced the launch of is new project management software called Planner, a hybrid of Trello's UI and Asana's functionality for project management software market.
For most industry observers, it was inevitable that Microsoft would play catch-up in the fast-growing work collaboration segment.   What was surprising was the lack of originality on the part of Microsoft and the apparent "copy-cat" nature of its new offering.
Let's start with what Microsoft got right: its UI is clean and elegant. It looks easy to use and it's integrated into Office 365. Although there is a cottage industry of analysts and journalists who like to predict Microsoft's demise, in the last year the company has fared well relative to Google for Work. In other words, Office 365 is not going away and for the millions of Microsoft customers who have transitioned to the platform, Planner will be a nice-to-have.
The one overriding negative is that Planner is too lightweight to compete in the Enterprise space where Office 365 dominates.   In other words, larger companies looking for online project management software and collaboration tools will be underwhelmed by the Planner.   At the same time, the Small and Medium Business segment has been slower to adopt Office 365. In many cases, these companies use Google Docs for file sharing and are unlikely to use the Planner.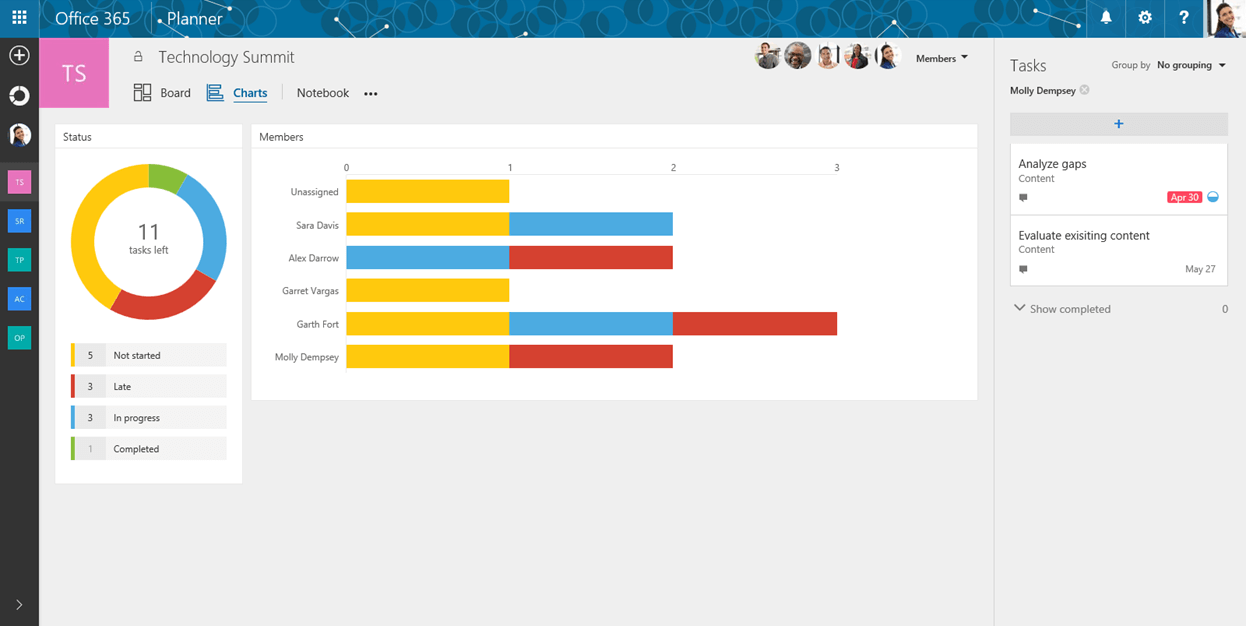 What is Microsoft Planner?  
From what we can tell, Microsoft Planner is a combination of file sharing and task management. There are "Hubs," "Cards," "Boards" and "Buckets" to organize projects.
A "Hub" provides a snapshot of the progress of each individual project. Tasks that have not yet started are coded yellow, blue signals that tasks are in progress, red indicates delays and green is for completed tasks.
Within each "Boards," there is a list of all the tasks associated with a project. The project teamwork is organized in "Buckets" of tasks. Buckets can be added by simply dragging and dropping. If this sounds familiar, that is because Microsoft has simply renamed some of the basic elements of the Kanban board with some new terminology.
Below are images of the Binfire and Trello Kanban boards:
Binfire Project Dashboard (Kanban Board)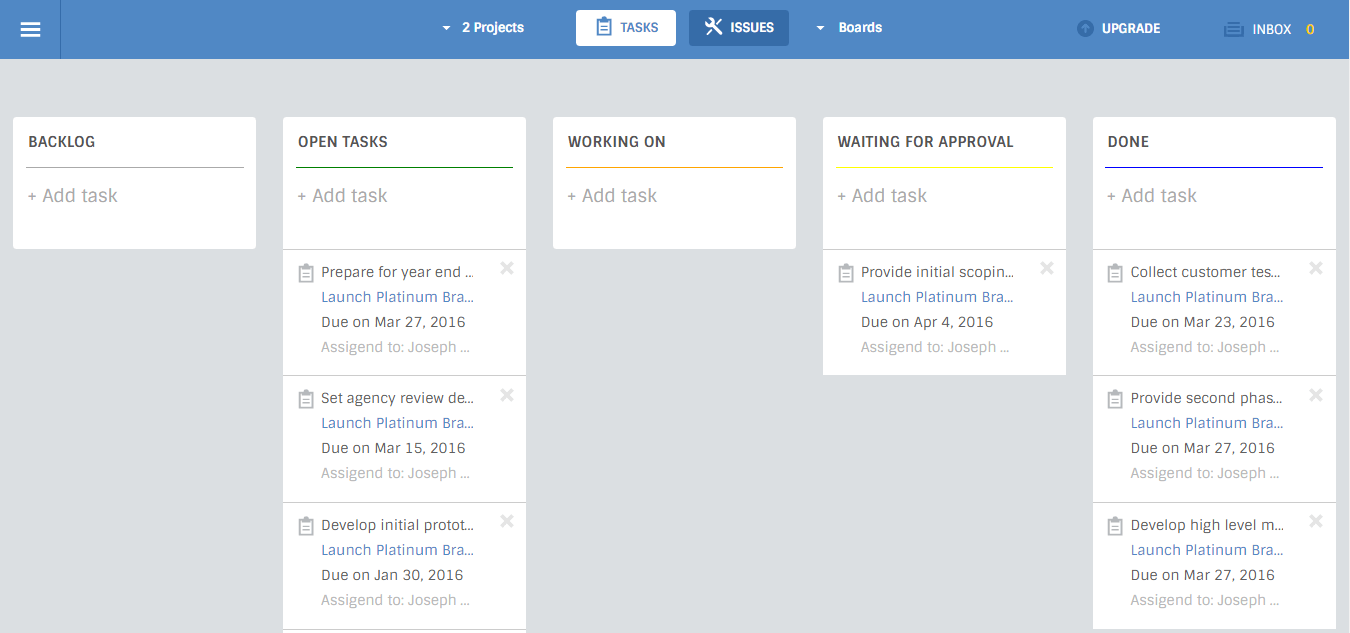 Trello Kanban Board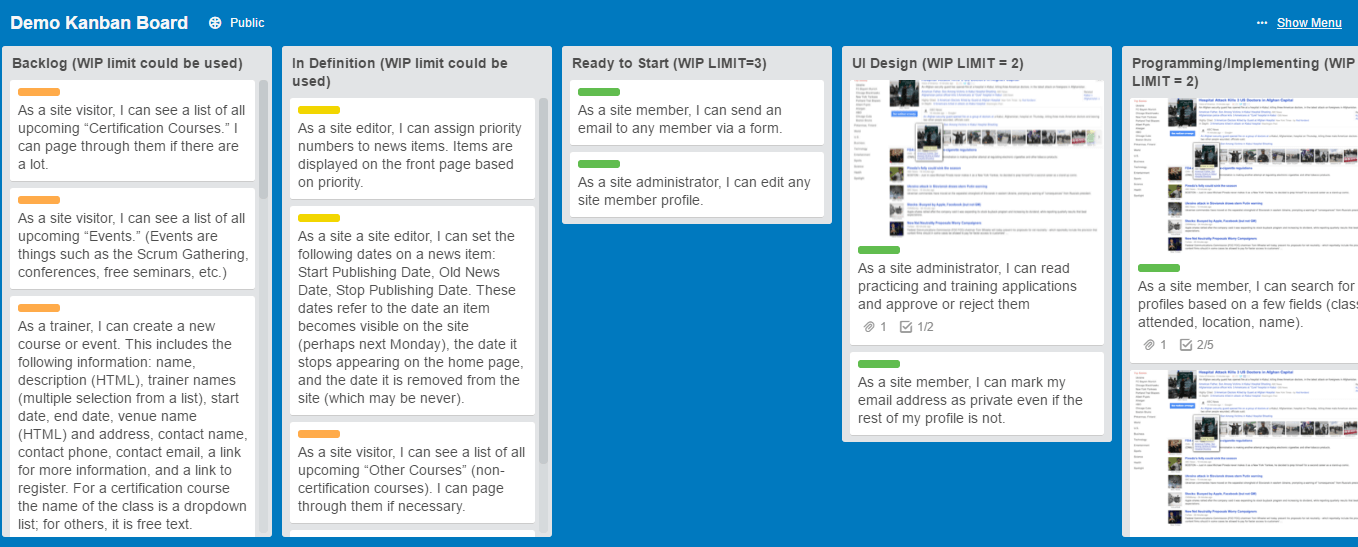 Our assessment is that the difference between Planner and Trello is primarily on the UI.   Microsoft scores higher points for look and feel, but lower points for functionality.   Comparing Planner and Asana, Microsoft scores equally on UI and slightly better on functionality.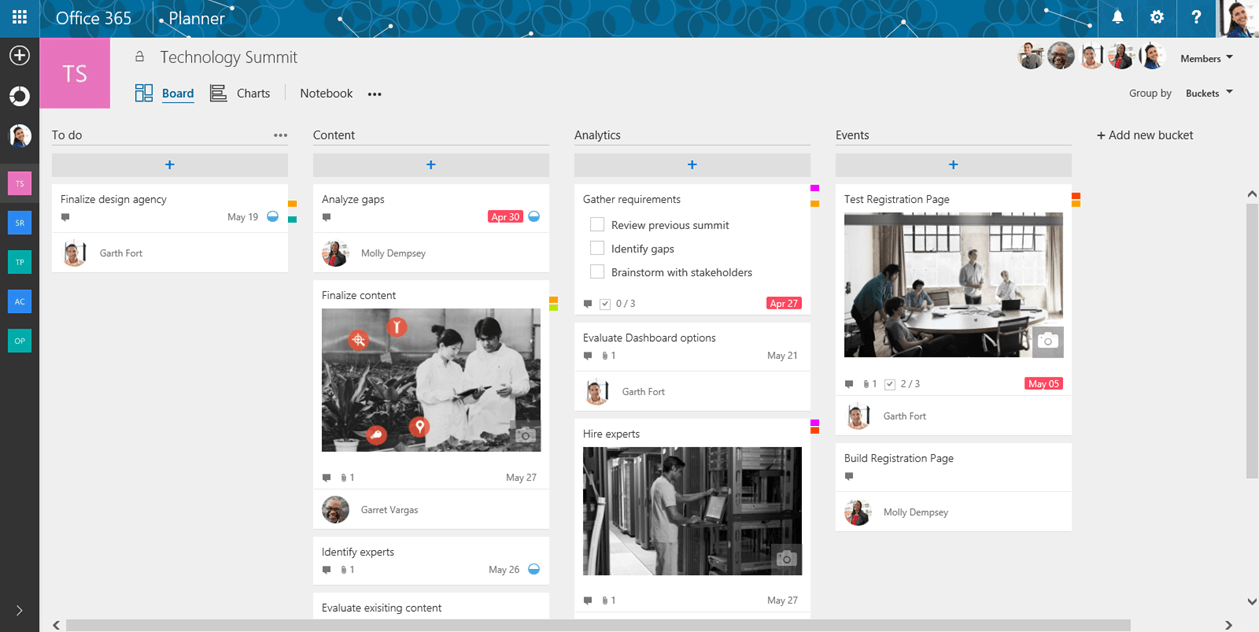 Microsoft Project versus Microsoft Planner
How does Planner compare with MS Project?   Microsoft Project is still the 1,000-pound gorilla in the project management software.
Although some would argue that Project is more a dinosaur than a gorilla, the fact is that many enterprise-wide projects are Project-based.  
When it comes to Microsoft, Project continues to be a (smallish) cash cow that does not get much in the way of R&D attention.  
Very little has been done over the last few years to update Project or to integrate it into Microsoft's broader Information Worker offerings.
Therefore, anyone hoping that Planner would be a light version of Project will likely be disappointed.   There is no integration between Project and Planner and this is unlikely to change any time soon.
Asana vs. Trello
How will Microsoft Planner impact Asana versus Trello? Many people thought that Microsoft would buy an outside project collaboration suite, so there are probably some unhappy investors who heard the news.
From a functionality perspective, Trello is a basic Kanban board whereas Asana has some extra functionality such as commenting on tasks and groups.  
Trello works well for small teams, but it is hard to scale. It does not have advanced functionality such as subtasks, dependencies and Gantt Charts.
Asana is somewhat more advanced than Trello because it supports grouping of teams and projects without the Kanban board option.
However, the UI does not support nested subtasks well and it is cumbersome to use if you have a large number of tasks.
Asana does not offer advanced concepts such as dependency and multiple task assignments.  
Gantt Charts and Time Tracking are not native. In order to use these functionalities users need to access third-party tools.
Closing Thoughts
We always welcome new technologies into the online project management software ecosystem.
Competition is good and drives innovation.   At this point, Microsoft Planner is not likely to have much impact on Kanban-based solutions such as Trello or simple task management software like Asana. 
Other comprehensive project management software solutions which incorporate collaborative task management plus the ease of use and Agile nature of Kanban boards, such as Binfire are out of reach of Microsoft Planner.
Do you currently use Trello or Asana? We'd love to hear your perspective on Microsoft Planner and whether you would consider a switch.
Is the fact that Planner is part of office 365 helps or hurts its chance of adoption?
We have published a nice infographic about project management best practices that you might find handy.