The email has been hailed as the greatest communication tool, and at the same time the ravager of productivity in teams. The time has come for teamwork without email.
One of our competitions, Asana, calls itself a productivity tool for teamwork without email.
We beg to differ, Asana is hardly the right tool to reduce the dependency on email. In fact, Asana uses email extensively. Without email, Asana could not function at all.
We believe Binfire is a better tool than Asana for teamwork without email. OK, let me correct myself, teamwork with less email to be precise. Email is still relevant and it will be for a long time.
Before you log in to Asana, you need to sign up. To sign up you need an email address.
After you log in to Asana, you get a ton of emails from Asana whenever something happens in your projects. Not mentioning all the promotional emails they send your way.
We have finally cracked teamwork without email conundrum. Binfire has the right balance of tools and features, to reduce the need for email by 40% compared to Asana or other project management software in the market.
We worked with 128 large companies who use binfire for some of their projects to see how much email is used in projects using Binfire and projects which don't use Binfire.
In projects that use Binfire, we found out the email was reduced by 40% compared to projects which used other project management apps.
This number was 73% fewer emails when the team used Excel or other spreadsheet apps to manage their projects.    
Teamwork without email done right
We believe we have created a tool that makes teamwork without email or should I say, relying less on email a reality.
To be able to work and collaborate on tasks and projects, you need a great communication tool built into your project management app.
Binfire makes communication and collaboration in the context of teamwork, seamless. All tools you need for teamwork are gathered in one application.
No need to sign up and manage ten apps just to do your work. By doing so we have lowered the cost of using the apps and made it much easier to work instead of learning new tools. 
Binfire makes it possible to communicate and collaborate on any item in the app in place without leaving the context or the page. What does that mean in practice?
If you are managing or working on tasks, you can use the comment tool to add comments or instructions for each task.
A screenshot of the comment tool is shown below: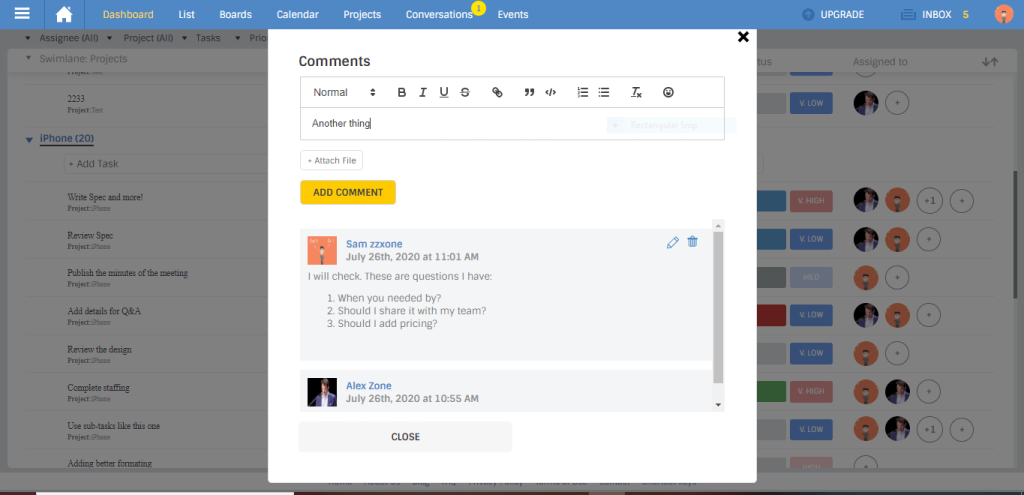 If you are brainstorming, Binfire's new conversation page totally replaces Slack. You can create channels for a group within your team to collaborate.
If you want to talk to a colleague, you use the conversation page to converse one to one with your teammates.
Below, I show a screenshot of the conversation page. As you can see the user can add a comment on a post and reply to it.

If you need a whiteboard to brainstorm online with your team who are dispersed around the word you can use the project's interactive whiteboard.
A whiteboard is a great tool for working remotely. Using the whiteboard, the conversation tool, and or Zoom you can create a virtual reality for teamwork. 
Each project in Binfire could have multiple whiteboards. The content of the whiteboards is saved automatically. For each project, you can create an unlimited number of whiteboards.
Desktop Notification
Another feature for reducing the number of emails the team members get on a daily bases is desktop notification.
When you are online and something happens in the project which needs your attention you get a desktop notification.
If you are not online, the message is sent to your inbox in the app. When you log in, you will see an alert in the app which tells you you have new messages.
As a last resort, the app also emails you when you need to know something important immediately.
We are not eliminating email altogether, but reducing the team's reliance on email for collaboration, brainstorming, and communication.
Conclusion
Asana claims that they make teamwork without email a possibility. Binfire proves that teamwork with less email is a reality.
Asana does not have built-in collaboration tools like Slack type communication or whiteboard and has to rely on third-party vendors for those functions.
This type of integration done by Asana can never achieve optimum results like Binfire native communication tools.
Based on studies we did with 128 of our bigger clients, the volume of email was reduced by a whopping 40% when these teams used the application to its fullest potential.
For teams that were using a spreadsheet to manage their work, the improvement was 73% when switched to Binfire. 
We are not done yet, we are working on advanced features like skill map or skill matrix (it is a secret, but I can tell you it uses AI which stands for Artificial Intelligence), to better balance the team's workload and enhance collaboration.
If you want to learn more about how to reduce the number of emails and at the same time improve your team's productivity, sign up for a demo here.
Give us suggestions on how to improve Binfire and we will give you a 3-months free subscription totally free. Leave a comment here and we get back to you soon.