Wrike is a popular project management application used by many and in different market segments. It has a nice feature set which is more than just task management.This article is about Wrike and Wrike alternatives.
Like all things in life, one size does not fit all and one application does not fit every project's needs.
Although Wrike might be well suited for some projects, it lacks features, ease of use or structure to support other projects.
In this article, we cover Wrike alternatives and the reason we believe they are superior to Wrike for managing some projects.
Before we proceed and describe Wrike alternatives which are active in the market in 2018, it is important to identify that one of the biggest issues with Wrike.
The lack of the ease of use is a major hindrance to using Wrike effectively.
The learning curve for new users to understand the features in the application and starting to use them effectively is very steep and time-consuming.
Wrike is designed to support the traditional project management method (waterfall) and lacks sufficient feature for Agile project management.  
The difficulty the users have using Wrike is understandable since Wrike stuffs so many features in the application.
In addition, Wrike was designed for project managers and as such fails as a collaboration tool for team work management.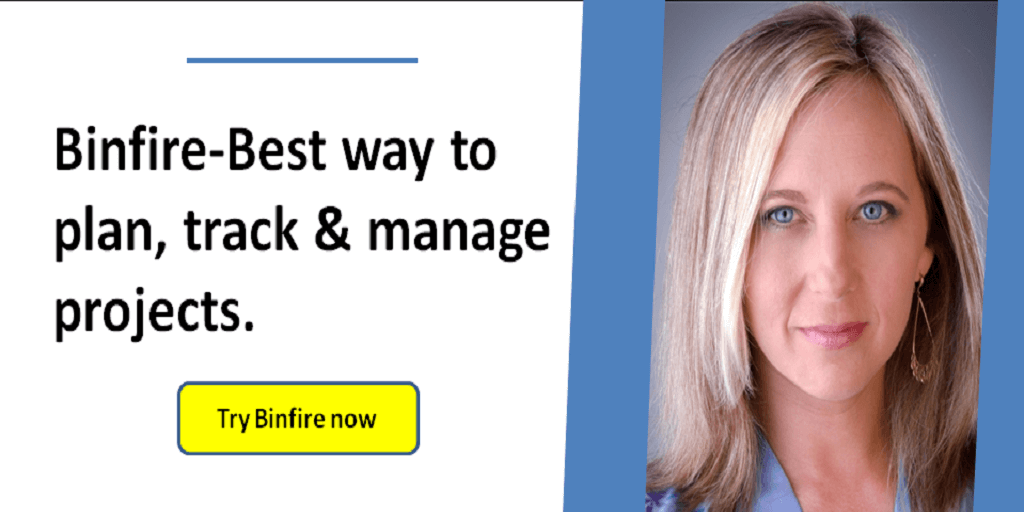 Wrike Alternatives
The following are a short list of leading project management applications which do more than just task management.  
Binfire
Like Wrike, Binfire is a complete project management solution, incorporating task management and collaboration.
Unlike  Wrike, Binfire is designed to support both waterfall and agile project management methods.
It includes task management with subtasks, milestones, and dependencies. Interactive Gantt chart is native to the application.
Other worthy features are a robust project reporting feature which incorporates graphics to make the data come to life and easy to understand.
For collaboration, Binfire includes message boards, live chat, and interactive whiteboard.
The application is designed to eliminate the need for manual creation and sending of emails when tasks are created or assigned.
Instead, the application manages all notifications needed where actions are taken by any team member. 
This feature also includes sending a notification when something that should have happened in the project is delayed.  Like, when a task is not started or completed on the time it is scheduled for.
Two new features will be coming soon to Binfire. The first one will add event planning to the application. This is a great tool for planning events in the project.
The second we will be adding so is the introduction of  Artificial Intelligence or AI in the project management application.
If your first thought is that we are trying to replace the project manager, you are wrong. 
Our idea is not to replace the project manager or even the planning process with AI. That does not work.
Our Goal is to use AI is to help the project manager and the team to make informed decisions and see the pitfalls with their current plan.
As such the AI will help to minimize risks and enhance the chance of the success of the projects.  
Stay tuned for these new features coming so to your favorite project management application.
There are hundreds of project management applications in the market today. Wrike is good, but we have found better applications for you to try!
Click To Tweet
Clarizen
Clarizen could be thought of as Microsoft project in the cloud. It looks and feels like MS project.
Clarizen includes advanced features for managing tasks and resources. In terms of functionality is has more project management features than Wrike.
One disadvantage of Clarizen could be pinpointed to its roots. Since it tried to be the closest app to the MS project, it shares the same issues that MS project suffers from.
The application is hard to use and not conform to proper collaboration norms expected today from collaboration tools.  
Microsoft Project
Microsoft Project is the granddaddy of all project management applications in the market today. MS Project was first introduced to the market in 1984 and it is still a powerful PM application.
The application has as many features as you might imagine, but it is very hard to learn and use.
In fact, many corporations have one or more dedicated MS project admins to help create and maintain the project plan.
Since the application was designed before the era of internet and online collaboration, it is not fit to the collaboration model promoted by social media.
In addition, the application tightly fits the waterfall model. So, other project management methods like Agile don't fare well when done in MS project.     
SmartSheet
If Clarizen was designed based on MS project, Smartsheet was designed to feel and look like Microsft Excel.
There is a valid reason for this. Millions of people love and use Excel. They are familiar with how it works and how to manage items in it.
So, the creators of Smartsheet decided to tap into this huge pool of people who know how to use Excel.
For those who have used Excel before, Smartsheet is an easy and convenient selection.
But there is a price with this ease of use. Since Smartsheet looks and behaves like Excel, it is very hard for it to support project management methods like Agile or Kanban.
For the same reason, the UI does not lend itself to collaboration among team members.
The advantage of Smartsheet for those familiar with Excel is wearing off today. New project management apps have interactive Gantt charts which mimic the Excel interface closely.
Summary
So if you are in the market for new project management application and not just a to-do list like Asana, give applications listed in this article a try.
All these applications offer free trial plans. Take advantage of the free plans and figure for yourself which application really fit your needs.
If you have your own favorite project management software which fits the above criteria, let us know. We will add a review of more apps in these pages in the future.
Social Positives website has also done a good review of Wrike's alternatives. Check them too.