Monday project management software is yet another project management tool in a very crowded project management software space.
Strictly speaking, Monday is not a project management application. Since it does not have the project start date, project Due date, and project deliverables.  
The main reason for the popularity of Monday project management is a very aggressive marketing campaign run by the company on social media and Google Ads.
If you have ever visited the Monday website, you have noticed that they follow you wherever you go with constant and aggressive ads.
At times these ads could be quite annoying and overwhelming.
In addition, Monday tends to spam your inbox with a huge number of unwanted marketing emails which could be very distracting. Even if you are a paid customer, you will get unwanted emails from them trying to upsell more expensive plans.

                         Figure #1  User complaining about Monday email Spam
If you ever watch a video on Youtube, for sure you will get interrupted by Monday's ads constantly.
If you have never visited Monday project management software, keep in mind that visiting them could crowd the web pages you will visit in the future with endless ads. 
Samples here:

                        Figure #2 User hating Monday's Ads
And here: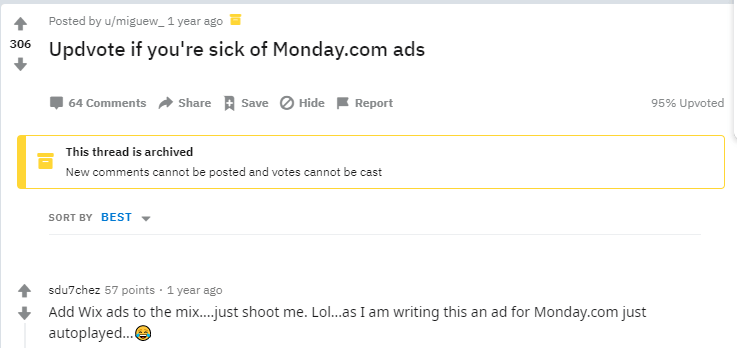 Figure #3 Another user complaining about Monday's Ads
Monday project management software pros
1-The user Interface and experience
The user interface looks good and has the flexibility to extend the data you want to display in your dashboard in the form of columns.
At the same time, this flexibility comes at a steep cost. When you have big projects and many team members the dashboard gets huge and overwhelming to follow.
It also takes a long time for the dashboard to load since a lot of data needs to be transferred from Monday's servers to your device.
2-Event Notification
The Monday project management app implements email notifications to let you know when things happen in your project, like when a task is assigned to you, or when a task is completed.
Since the Monday Project management app has not implemented an adequate notification management regime, at times the number of email notifications you get could be overwhelming.
3-Team Communication
Monday project management software enables teams to communicate via comments and forms. The user can leave comments on tasks and on design documents.
But unlike other project management apps, it does not have internal chat. This creates a problem organizing all project's conversations in a place.
It also makes it much harder than the other project management apps to find the conversation you are looking for.    
4-Templates
Monday project management app provides ample templates for a variety of different job functions and industries.
These forms could be a great time saver when your project's outline matches one of the forms you can download from Monday's site.    
5-Integration with other apps
Monday does integration with quite a few apps like Slack, Trello, and Google Docs.
It does not have integration with CRM apps like salesforce yet. Although Monday supports Zapier,  the integration with other apps could be quite cumbersome. 
Monday Project Management software Cons
1-Pricing  
By any measure Monday's offering is expensive. The basic price starts at $10 per month per user and on top of that, they have pre-defined user numbers. So you can buy either 3 seats, 5 seats, 10 seats, etc.
For example, if you have 6 users you have to buy a plan for 10 users and pay $100 per month.
This pricing scheme is quite complex and unfair for small businesses, freelancers, and new startups. 
2-Steep learning curve
It is quite challenging to get used to Monday's user interface and functionality.  In fact, that is the number two complaint after pricing in user groups.
Since Monday lacks structure in presenting data to the user, at the start it looks great and wonderful.
But as the project gets bigger and drags on with more tasks and communication it becomes increasingly difficult to find your way and find what you are looking for. 

3-Difficult to Track time spent on tasks
Monday does not have any tool for tracking the time the team members spend on each task.
This is a big issue for those who have clients or use contractors to do their projects.
In a lot of projects, proper time tracking is essential and without it, it is hard to know how many hours your team spends on a project and how much it is costing you.   
4-No Client support
The App does not have options for supporting clients. So if you plan to invite your clients to your workspace you need to buy them a new seat.
In most cases clients only need access to a few pages in the app and paying a full price for that is quite exuberant.
5-Customization
Monday has very limited options for customization. The user is forced into one view and has limited options to change that.
6-Lack of the project start date, end date, and deliverables
In strict terms, Monday is not a project management application. It lacks the project start date, project end date, definition of deliverables, and many more functions needed in a robust project management application.
If you write blogs on a daily or weekly basis, or you are working on fixing bugs, then Monday might be fine for your needs.
On the other hand, if you are working on a complex project like designing a new gadget, or working on a large software project like writing a new spreadsheet or CRM, Monday is not the tool you should use.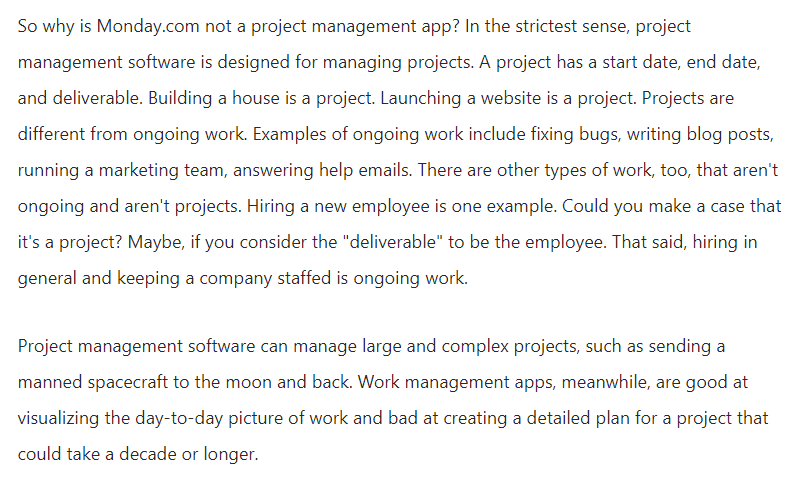 Figure # 4 Why Monday is not a project management app
Conclusion
Monday is an adequate work management tool for small teams or simple projects.
When it comes to large teams or complex projects, Monday's UX and functionality fail to deliver.
Monday's lack of essential features makes the app irrelevant for large or complex projects.
If you are looking for a robust project management app that grows as your team and project grow, try Binfire's project management app. 
Binfire contains all features you need to manage your projects, manage tasks, communicate with team members, and collaborate on documents.
Sign up for a free trial and mention this article in your email to support@binfire.com, and as a thank you, we will give you a 6-month Business plan absolutely free (no credit card needed).
Six months gives you plenty of time to evaluate and decide if Binfire meets your needs.
If at the end of six months you are still not convinced Binfire is for you, we help you download all your data so you can import it to another project management application  
Note: Recently we wrote an article about Asana and Wrike project management pros and cons too. Check them out in Collaboration Corner!