How to Create a Valuable Digital Marketing Report for Your Management 
A report on digital marketing can help both you and the stakeholders take a retrospective look at the campaigns and overall marketing efforts. Ultimately, it can cover performance gaps and contribute to building highly effective campaigns in a short period of time. In this article, we'll cover the basics of digital marketing report that you and your management will benefit from. 
What is digital reporting?
Digital marketing reporting aims to maintain the performance of your marketing strategy. The best practice is to combine data from the multiple marketing channels you're using to get insights and present them to your team, stakeholders, or management. 
The reporting should influence further decision-making, as its goal is to analyze campaigns and find areas of improvement. Generally, a digital marketing report contains a campaign summary, marketing analysis, a list of nearest goals, and completed and further actions. It's a powerful tool usually presented in the form of a document or presentation using creative PowerPoint templates for additional visual impact, graphically showing insights from the overall campaign.
What should a digital marketing report include?
Your managers are not interested in every detail of the report, so you should start by investigating the campaign's goal, then build the report accordingly. 
The management is interested in the main results, areas of improvement, and key actions that will optimize ongoing marketing efforts. That's why the best practice is to include the following data:
Activities that you've performed and their results.

You need to include relevant data that shows where your campaigns are at and how successfully they're performing. 

Interpretation of the results.

Once you present the data, it's time to make sense of it. Briefly show what works well and needs to be repeated and which activities should be adjusted or removed from the strategy. 

Action steps.

Once you've analyzed the results, including what you plan to improve with concrete, achievable steps for the nearest future. 
Basically, try to show how much money was spent, how many users you could reach, and what the ROI (return on investment) is. This way, you'll make the report truly valuable for stakeholders without wasting too much time. 
Basic Digital Marketing Reports to Use 
Marketing includes a wide range of activities that can be implemented on many levels. What to do depends on your goals and the type of business you're in. We've listed the basic digital reporting metrics you should track — they will help you sustain your strategy and make thoughtful decisions about any changes.
Moreover, understanding your industry's unique needs is vital. If you're in the plumbing business, for example, aligning with a specialized plumbing marketing agency can provide insights that general marketing firms might overlook. They can help decipher industry-specific trends, customer behaviors, and even the nuances in keyword targeting for search engine optimization.  
SEO marketing report 
An SEO report is a great way to evaluate your website's performance and whether your SEO strategy needs to be adjusted. It mostly discloses organic traffic, keyword rankings, new backlinks, technical website health score, and other data — depending on your goals for the concrete presentation. If you make the report for management, keep it concise and only add key metrics like organic traffic from target locations that will bring clarity and value to decision-makers. 
If you're not a fan of spending much time on reporting, drag-and-drop services like the SEO report builder by SE Ranking can help you. It can be integrated with Google Analytics and Google Search Console, and it's easy to add the data to the Data Studio. This way, you can generate reports with all the metrics you need on one dashboard and arrange them however you want. In addition, you can simply use a template for various purposes: traffic or rankings overview, website audit, and more. Then, you can download your report and send it, or schedule it for later.

PPC marketing report
A PPC marketing report shows the results of PPC campaigns and their analysis. While conducting it, concentrate on key metrics that reveal the performance of the campaign. These metrics include CPA (cost per acquisition), click-through rate, ROAS, conversions, and a general traffic overview. Once you analyze those key metrics, you can determine which actions to take to move your campaigns forward. 
Your management will only be interested in seeing metrics that align with the overall strategy and influence further actions. Being concise and informative will help you to show the real situation around the PPC campaigns — use Google Ads report for this. 
Email marketing report 
Email marketing remains one of the few effective ways to connect with an existing, mostly loyal audience and let them know about new arrivals, propositions, sales, or any other valuable information. This is why tracking results in the form of marketing reporting can help you grow your conversion rates and target audience more effectively. 
In the report, you want to include emails that have been sent, the open and click rate, and data that showcases the overall campaign success. The main goal is to understand whether the viewers were interested enough to open and read the content and the results (sales/signups/subscriptions) it brought. You can use tools such as Mailchimp or CampaignMonitor to organize all the data conveniently.
To organize and conduct your email marketing campaign, utilizing email list management best practices is a must. These practices make your work more efficient and productive and help your business grow faster.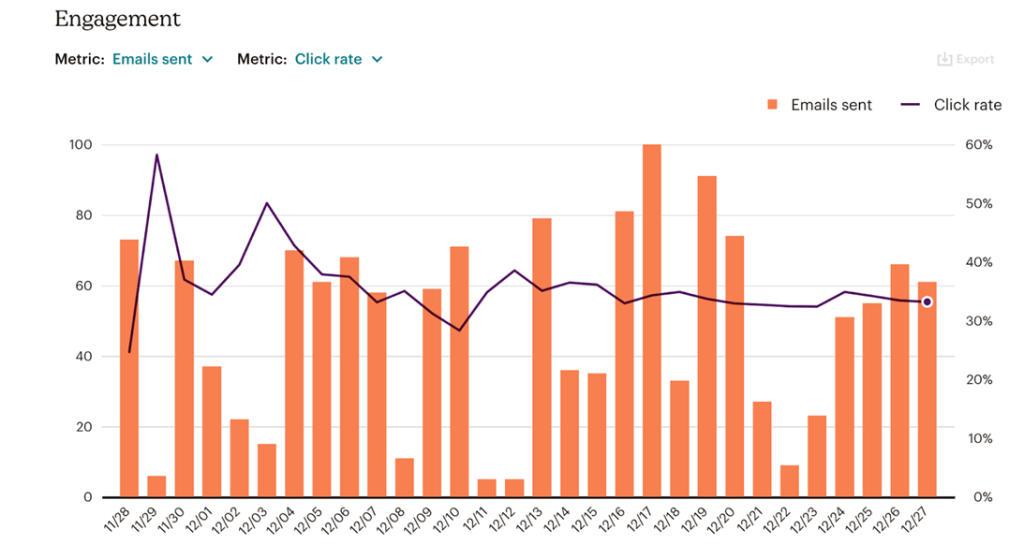 https://us13.admin.mailchimp.com/analytics/email-dashboard/ 
Social media marketing report 
Social media grows in popularity every year. It's considered to be one of the best ways to connect with the audience in a meaningful way, convey brand values, and make sales. As a single platform combines such a large set of instruments, many specialists spend a large percentage of their budget on social media. 
When creating a report structure, ensure not to overload it with numbers and statistics. Your goal is to interpret data that will add to the understanding of the performance of social media campaigns. You can use tools such as Sprout Social or Zoho Social: they show reports on engagement in graphs and tables, integrating with your social media profiles. 
https://sproutsocial.com/ 
In the report, showcase how many followers you've gained and lost, the number of posts you published, and the reach and engagement for each of them, and analyze top-performing posts and make suggestions about the latest content plan. Add everything that works on your page, analyze competitors to find trends, and support your decisions with data. 
General marketing report 
If you want to take a broader look at your marketing effort, you can use a general report to get all the crucial data in one place. Think about the metrics that directly influence your strategy's success — what do you need to include, and what can be left out? It can consist of the total traffic metrics from all of your marketing channels (sessions, new users, bounce rate, etc.) with conversion rates, results of the current SEO strategy (organic traffic and rankings), PPC campaign metrics (CTR, ROI, impressions), email campaigns performance, and social media channels overview. Make sure to build the report around the goals you're pursuing and the actions you're taking. You can divide it by channels, areas of focus, or plans for a broader view. 
Google Analytics can help you create an all-in-one report, combining data from different channels. 
Key takeaways 
A digital marketing report can serve you in various ways. First of all, it's a great source for learning what works in your strategy and what doesn't. Once you have the data, you can get the most out of it by driving positive changes. Besides, reports can show you what opportunities you are missing. Without constant re-evaluation of your strategy, it's easy to get into tunnel vision and miss out on other essential things. Think of digital reporting as a tool that helps you achieve better results.